Legislative Awareness Day
Legislative Awareness Day 2017
Monday, October 9, 2 – 5 p.m.
Joint Hearing Room
Department of Legislative Services
90 State Circle
Annapolis, MD 21401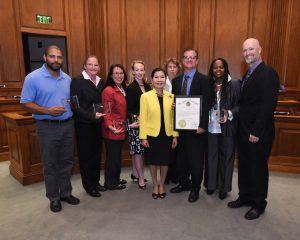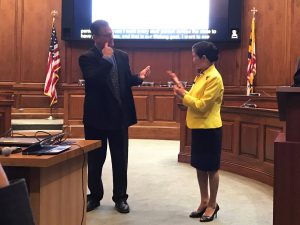 [To see more photos of the event, please click here]
---
Learn about the legislative process! Participants will have the opportunity to attend an interactive panel of community leaders and First Lady Yumi Hogan will be presenting various community awards of recognition.

Vlog about Legislative Awareness Day 2017

Vlog announcing honorees' names
---
Agenda
2:00 PM          Welcome and opening remarks
2:20 PM          Legislative Advocacy Roadmap: Zainab Alkebsi, Esq.
2:50 PM          Break

3:00 PM          Community Leaders Panel 
Darrin Smith, Baltimore Chapter of National Black Deaf Advocates
Leslie Zinza, Maryland Deaf Senior Citizens
Sean Markel, Deaf Grassroots Movement
Veronica Steele, Prince George's Chapter of Hearing Loss Association of America
Heidi Burghardt, Howard County Association of the Deaf
3:50 PM          Break
4:00 PM          Introduction and Presentation of First Lady Yumi Hogan
4:15 PM          Awards Ceremony
Antines Davis, Spirit of the Office Award
Dr. Lisalee D. Egbert, Civic Engagement Award
Mid-Atlantic Interpreting Group, Spirit of the Deaf Ecosystem Award
Sean Markel, Governor's Kelby Brick Community Leadership Award
Dr. Jennifer Reesman, Outstanding Ally Award
Surdus Remodeling, Outstanding Deaf Business Award
---
Zainab Alkebsi is Policy Counsel at the National Association of the Deaf (NAD). Prior to the NAD, she served as Deputy Director at the Maryland Governor's Office of the Deaf and Hard of hearing where she coordinated the Office's legislative and policy efforts. Licensed to practice law in Maryland, she is also a member of the American Bar Association and the Maryland State Bar Association. She received her J.D. from the University of Baltimore School of Law.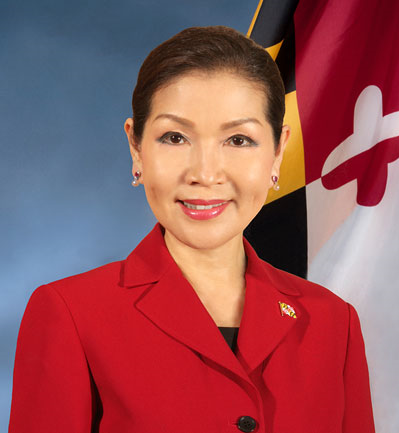 Maryland's First Lady, Yumi Hogan, is the first Korean-American First Lady in the United States. Mrs. Hogan is a first-generation Korean-American, an accomplished artist, and an adjunct professor at Maryland Institute College of Art.
As First Lady, Mrs. Hogan has made it a priority to share her love of the arts with Marylanders of all ages through arts education. Since November 2015, Mrs. Hogan has served as the Honorary Chair of the Council for Arts and Culture at the University of Maryland, Baltimore, working with the University and Baltimore City to promote the arts.
Through her work teaching art classes to patients with cancer and people with disabilities, Mrs. Hogan has become a strong proponent of art therapy and the positive impact it can have on health and wellbeing. She plans to continue to support the arts community and work to bring the joy of art to all Marylanders.