2015 & ODHH
ODHH is excited about 2015! We have a new Governor and a lot of changes happening.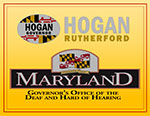 You may or may not have noticed that we have been working hard with our website In addition to its new look, we have added more resources, including ASL vlogs. We have also added a new Deaf-Owned Business directory, which we are continuing to update. If you are or know of a deaf, hard of hearing, or deafblind business owner, please let us know.
ODHH is also excited about expanding our training/workshop availability. We want deaf, hard of hearing, and deafblind Marylanders to have access to the same information as other citizens, to understand the resources available, and to avail themselves of such resources. Please share with us what kind of workshops you would like to attend. We will continue providing our annual employment workshops and Legislative Awareness Days. What other issues are important to you? Please fill out our form and let us know your thoughts. Click HERE for the form.
ODHH's mission and vision remains the same. In pursuit of that vision, another goal is to increase our numbers for Deaf Sensitivity and Awareness Trainings in order to promote a better understanding of our community and its needs. ODHH will increase our collaborations with various state agencies to address those very needs and educate on those topics. ODHH will also continue educating places of public accommodation on their obligations to provide the appropriate communication method as constituents reach out to us with their frustrations. ODHH will continue ensuring that captioning and ASL interpreters are provided at emergency televised press conferences and other state-produced videos. Please do let us know if there's anything you'd like to see ODHH do for you, such as specific resources or how we can be here for you.
---