Maryland Prepares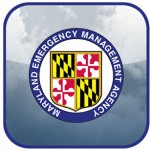 We would like to give a shout-out to the Maryland Emergency Management Agency (MEMA) for its coordination with the Governor's Press Office and ODHH to ensure that the Governor's announcements during the recent storm were accessible to Marylanders who were deaf or hard of hearing. ODHH wants to recognize and show appreciation for this positive collaboration. The interpreters were: Carrie Quigley and Certified Deaf Interpreter, Kelby Brick.
Winter is almost over and spring is on its way! For the past month, we have been dealing with below freezing temperatures as well as school closures and delays. Even the State of Maryland was closed too! We have been keeping ourselves warm and hope you all are too. We want to remind everyone and share a couple of things on how to always be prepared in emergency weather.
Check out the information on the ODHH website about being prepared for emergencies. Another important resource that can help you is Real Time Alert.
Stay on top of the news and know what is happening in your area, especially if you plan to leave the house at the forecasted time of National Weather Service (NWS) alerts.
This contains a chart of different areas of Maryland that you can easily track and it has different boxes for specific information, such as if you are looking for traffic report, flood report, shelter information, and more. On the mobile app, you can receive emergency alerts, prepare emergency kits and family communication plans, and access current news. Check it out.
Go ahead and download the Maryland Prepares Mobile App on your phone so that you have access to information on how to be prepared for all types of disasters here in Maryland.
---