Meet The Team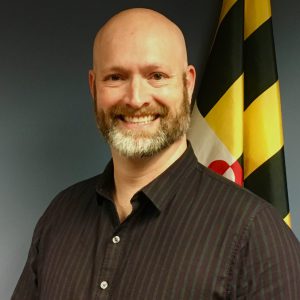 Kelby Brick, Esq., CDI
Director
"Kelby Brick has dedicated his entire career to ensuring that Deaf and hard-of-hearing individuals have the same opportunities and access as everyone else," said Governor Larry Hogan. "Kelby is a tireless leader and advocate for individuals with disabilities and there is no one more qualified to take the helm at ODHH."
Kelby led efforts in 2001 to establish ODHH, and his appointment represents a "return to home" for him. "I've come full circle here and am excited about this opportunity to work with the governor to take ODHH to the next level," Kelby said.
In 2013, Kelby founded Brick Advantage, a consulting firm that works with and advises corporations and nonprofits. Prior to that, he was a vice president of Purple Communications, Inc., where he led the company's regulatory and strategic policy to break down communication barriers for deaf and hard-of-hearing individuals.
While at Purple, Kelby transformed the telecommunications relay services industry—which provides full telephone accessibility to people who are deaf, hard of hearing, or speech-disabled—by establishing a system (later adopted by the Federal Communications Commission) that enables relay equipment to be interoperable and accessible with real local phone numbers and emergency access.
Prior to joining Purple, Kelby was the director for law and advocacy at the National Association of the Deaf (NAD). As director, Kelby successfully mobilized NAD in establishing precedents and landmark decisions in litigation and legislative and regulatory areas while increasing NAD's profile.
Kelby is active in numerous advocacy organizations and served as a board member of the American Association of People with Disabilities as well as on various federal and local advisory groups.
In 2011, Brick was the first recipient of the Governor's Kelby Brick Community Leadership Award, which has been given annually ever since. Brick has a Bachelor of Arts in government from Gallaudet University and a law degree from the Temple University Beasley School of Law. He is the first deaf graduate of the law school. He is also a Certified Deaf Interpreter.
Kelby resides in Catonsville with his wife, Jill, and their four teenagers.
Jacob Salem
Policy Manager
Jacob Salem is the Policy Manager for the Maryland Governor's Office the Deaf and hard of hearing, where he supports Governor Hogan and Director Brick's policy and advocacy efforts at the state level. In his role, Salem oversees the State's policies and regulations affecting 1.2 million Deaf and hard of hearing constituents.
Salem currently co-chairs the Cultural and Linguistic Competence Committee under the Behavioral Health Administration Council, a subcommittee responsible for generating recommendations for the development of culturally responsive services within the behavioral and mental health system.  He also serves on various policy forums including, but not limited to: the Disaster Risk Reduction Working Group (MEMA), Hearing Accessibility Advisory Board (DGS), and No Wrong Door Governance Group (MDA)
Prior to joining the team, Jacob was a Public Policy Fellow for the Communication Services for the Deaf (CSD) where he expanded his knowledge in the area of Federal Communications Commission, Small Business Administration's 8(a) Business Development Program, direct video communication, telemedicine, video relay services, campus accessibility, and public policy hub.
Jacob earned an MPA from Gallaudet University, where he served as the President of Graduate Student Association, and a Bachelor of Science degree in Political Science from University of Central Florida.
TraciAnn Hoglind
Policy and Communications Manager
TraciAnn Hoglind is a passionate advocate for health equity and for the Deaf community. She handles policy work and office communications. Prior to joining our team, TraciAnn was a Health Access Project Specialist at the Massachusetts Commission for the Deaf and Hard of Hearing. She also has a total of over 6 years of research experience in health, neuroscience, and policy. TraciAnn graduated with a Master of Public Health degree from Boston University. She also holds a bachelor's degree in Psychology with a minor in Business Administration from Gallaudet University. When not at work, she enjoys watching Netflix, playing volleyball, and spending time with family and friends.