Meet The Team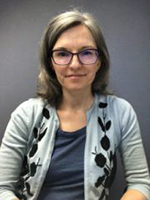 Kate Breen
Acting Director
Kate, a Central New York native mainstreamed in the public school system and is a Model Secondary School for the Deaf alumni. She received a Bachelor's degree in Government from Gallaudet University, Masters in International Studies from University of Limerick in Ireland, and Masters in International Development from Gallaudet University.
Kate's career paths vary from social services to contract jobs in both domestic and international settings with Institute on Disability and Public Policy at American University and United States International Council on Disabilities. She also worked as a case manager for Deaf adults with developmental disabilities, managed a group home in New York, and as a Residential Specialist for Deaf REACH's group homes in Washington, D.C..
Prior to Kate's position as Policy Manager and now Acting Director for GODHH, she was adjunct instructor and faculty at Gallaudet University for five years. As a Policy Manager, Kate monitored policy initiatives, met with community advocates, state offices and corresponded with legislative offices. She also sits on several state boards including Cultural and Linguistic Competency subcommittee (CLCC) and Hearing Accessibility Advisory Board (HAAB).
Kate is thrilled to take the helm as the Acting Director of the Governor's Office of Deaf and Hard of Hearing and to continue to work with Marylanders of all walks of life.

Payal Sharmacharya
Communications and Policy Manager
Payal is the Communication and Policy Manager for the Governor's Office of Deaf and Hard of Hearing. Coming from a proud Indian heritage, Payal graduated from Kansas School for the Deaf. Prior to completing her masters degree in Public Administration from Gallaudet University, Payal received two bachelor degrees in Communication Studies and International Studies from the same University. 
Payal has been heavily involved in the Deaf and hard of hearing community, especially working with organizations such as Deaf Women of Color (DWC), National Asian Pacific Islander Deaf Coalition (NAPIDC), and Metro South Asian Deaf Association (MSADA). Last but not least, Payal is well known as the Chocoholic lover.